PLA stands for Polylactic acid and is a non-toxic, eco-friendly biodegradable polymer usually made from plant based materials.
It's a widely used plastic, especially for food packaging. The fact that it's biodegradable also make it useful in medicine, for the types of implants that need to simply dissolve away in your body. Check out some of the things that are made from PLA and you may have around you (yeah, those are tea bags!):
It's printing temperature of 190-240°C / 374-464°F is low enough to ensure easy drawing, and high enough to ensure the models stay strong and firm at room temperature. It's properties taken together make it one of the most loved materials by hobby 3D printers and 3D doodlers:
When drawing, it doesn't give off any toxic fumes and smells like popcorn ???? ! This is definitely one of the most enjoyable drawing experiences.
Although PLA is a food safe plastic, 3D pen filaments might contain additives and coloring that are not food safe, so unless you purchase a filament type explicitly labeles as "food"
It's also a food safe plastic (but note that most 3D pen PLA filament are NOT labeled as food safe and they may contain non-food-safe additives and coloring so do not use regular 3D pen PLA filaments for printing food recipients unless the filament is explicitly labeled "food safe").
It comes in semi-transparent / translucent options, and it's great for making the windows or other transparent sections of models. Check out the cool looking blue stained-glass-look-alike in this model that was drawn with PLA (rest of the model uses ABS):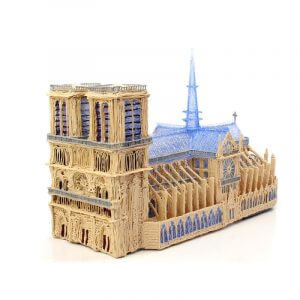 PLA bonds well to cloth (you draw badges on clothes and backpacks!), to other plastics like ABS and to paper. The last one, bonding to paper, is somewhat of an inconvenient, since it makes stencils based drawing harder, but you can use glossy or semi-glossy paper and not press too hard into it and it will work just fine.
There are also tooons of special PLA filaments: metal-like, wood-like, glow-in-the-dark, translucent, conductive etc. Really, if you're not sure what filament to use, it's hard to go wrong with PLA!