We know how hard it is to gather the useful parameters of 3D pens. And we know how hard it is to make a useful comparison to pick one… Everything is confusing, and the pen manufacturers seem to have no interest in making the people less confused. But we have done the geeky job of sorting and reviewing tons of infos, and now we bring it all here to you!
Short list
There are way too many 3D pens on the market to be able to meaningfully review. So, based on popularity, customer reviews, and opinions of reviewers, we've reduced our initial looong list to a short list that we'll then analyze in more details:
3D Pen

Technology

Filaments/Inks

Weight

Kid safe

Features

Score (max 5)

3Doodler Create

Molten plastic (FDM)

3mm PLA, ABS, FLEXY

12.8oz (363g)

14+, smaller with adult supervision

- 2 speeds
- mobile with jetpack battery

3.4

Scribbler 3D Pen V3

Molten plastic (FDM)

1.75mm PLA, ABS, FLEXY

6.4oz (181g)

14+, smaller with adult supervision

- 6 speeds
- exact temperature settings
- supports lots of special filaments

3.2

Polyes Q1

Photopolymer (UV hardened)

lots of inks, including special (glow in the dark etc.)

5.6oz (160g)

YES

- cool ink, no hot plastics
- wireless (charges via USB)

2.6

3Doodler Start

Molten plastic (FDM)

3mm 3Doodle BioPlastic (~PCL-like)

8.3oz (235g)

YES

- low temperature plastic (tips is just warm, not hot)
- wireless (charges via USB)

3.4

3Dsimo mini

Molten plastic (FDM)

1.75 mm ABS, FLEXY, HIPS, PETG, PLA

1.8oz (50g) without tips

with direct adult supervision

- multi tool: also solders, cuts foam, burns
- high max temperature allow usage of special materials
- advanced parameters (temperature, speed) adjusted via mobile app

3.4

CreoPop 3D Pen

Photopolymer (UV hardened)

lots of inks, including unique ones like magnetic and conductive

4oz (113g)

YES

- cool ink, no hot plastics
- wireless (charges via USB)

2.9

MYNT3D Professional Printing 3D Pen

Molten plastic (FDM)

1.75mm PLA, ABS

9.6oz (272g)

14+, smaller with adult supervision

- sleek looking
- exact temperature settings
- mobile with USB power bank

2.6

Samto 3D Pen

Molten plastic (FDM)

1.75mm PLA, ABS

2.12oz (60g)

14+, smaller with adult supervision

- cheapest one that works

1.8

Soyan Professional 3D Pen

Molten plastic (FDM)

1.75mm PLA, ABS

9.6oz (272g)

14+, smaller with adult supervision

- sleek looking
- exact temperature settings
- mobile with USB power bank

2.9
What we looked at
The following are the criteria we took into consideration when scoring. Final score was normalized to maximum of 5. Special tweaks were made to the partial scores (not displayed here) to take into account suitability for target purpose (a kid-oriented product would obviously lack features of adult-oriented ones, but those "missing" features could have been unsafe, so missing them is probably for the better), and the inner limitations and differences of photopolymer technology (there is a trade-off between having cool-ink and working with hard plastics, and it all depends on the purpose of the user).
Writing quality (Q)
3 – best
2 – ok
1 – with some issues
0 – big problems
Reliability (R)
0 – direct experience or multiple reports of complete failure
2 – direct experience or multiple reports of frequent clogging and hard to unclog
4 – direct experience or multiple reports of frequent clogging but easy to unclog
(or other circumstances that could be labeled as "reliability risks" that would apply to other technologies like photopolymers)
6 – no direct experience and only very few reports of infrequent clogging
Ergonomics (E)
2 – very comfortable to use for prolonged periods of time
1 – comfortable to use only for small periods of time (under 1 h)
0 – uncomfortable to use
Mobility (M)
2 – wireless (battery)
1 – possible mobility with extra accessory (wired to portable battery)
0 – no mobility
Kids friendly (K)
2 – very kid friendly (usable without any adult supervision)
1 – usable with some adult supervision
0 – can potentially be dangerous (needs direct adult supervision)
Flexibility (F)
0 – only supports basic materials and usage
1 – supports extra types of basic materials
2 – supports other materials than the basics
Multi-functional (X)
0 – has extra useful functions
1 – does not have extra functions
For now, we keep the details of our ranking algorithm proprietary, but we'll probably open it during future editions of our "best of" lists. The numbers above are just the roughest abridged representation of our algorithm.
Top 3 3D Pens
1st place
We tried. We tried really hard… to pick a contestant as the one and only "best 3D pen". But it didn't work out this way. Depending on what your needs are, there will be a different 3D pen for you. It's simply that: no pen is gopeod at everything, and the competition is pretty balanced. This means that 3D pens are finally starting not to suck. Could this mean that 2017 is finally the year of the 3d-pen-that-truly-works? We at 3DPenHub have high hopes!
So, for top 3D pen, we picked …three 3D pens, each of them being "best" for one particular use case:
3Doodler Create – best simple 3D pen
3Dsimo mini – best for flexibility
3Doodler Start – best for kids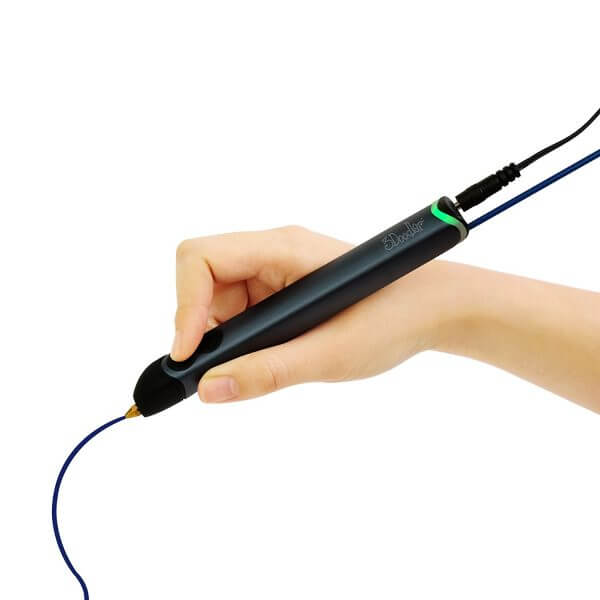 If you want a good 3D pen, that is very easy to use and beginner friendly, and it's also nice and compact, with a good look and feel, you can't go wrong with 3Dooler create, the mid-range model from 3Doodler, the company that created the first 3D Pen in the world through its successful Kickstarter project a few years ago. It's the 3rd iteration of its core product, just after 3Doodle 2.0 (which btw, looks practically identical to 3Doodler create, but it's actually an improved version with some reliability issues sorted out.
There are not many settings to configure about this pen. Its controls are:
a toggle with 3 positions: off, on low temperature (for PLA plastic) and on high temperature (for ABS plastic)
2 buttons, a slow button and a fast button: pressing them once starts or stop the filament feeding, pressing twice reverses filament feeding – this is good for large drawings, since you don't have to keep a button pressed for the plastic to keep flowing like you have for others
It supports PLA, ABS and FLEXY plastics, in 3mm strands. The brand plastic offers decent variety, with lots of colors and special purpose filaments too. The 3Doodler 3D pens are different form other in that they use 3 mm filaments instead of the more common 1.75 mm ones, and that it uses rods of filament instead of coils. 1.75 mm filament in coils (for 3D printers) is cheaper, but 3 mm rods are much more practical since they don't hang off from the back of the pen. Also, it uses 3Doodle brand plastics instead of slightly cheaper generic filament. (Technically, as some have also tried, this pen works with any good quality 3mm ABS or PLA filament, if you only remember to cut it in shorter straight pierce because this pen twists it while feeding it in. YMMV but imho it's brand plastic ain't that expensive, so I recommend just using what the manufacturer recommends because it's guaranteed to work best, and also because otherwise you void your warranty).
It supports a bunch of handy accessories, like:
set of multiple nozzles (btw, 3Doodler create has swappable nozzles for easy maintenance and fixing):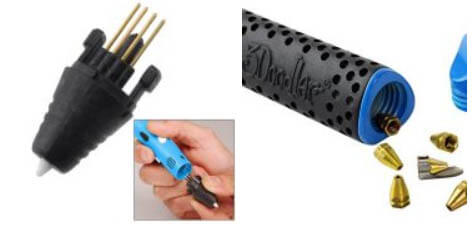 JetPack (portable battery) for travel doodling (or Graffiti on your city's walls )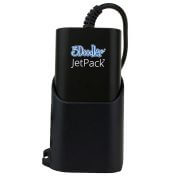 Best for
people who just want a simple and easy to use 3D pen, that "just works", and at the same time good enough for almost all creative projects
people who want something that "feels quality built"
Overall, if you don't care much about extra finer control for temperature and speed or other special features, we'd say that this is the best regular 3D pen if you don't care about the price. It's pretty reliable, if used with care (it will jam if you misuse it, like forgetting filament in it etc., so not the most kid-resistant or abuse-resistant tool), since folks have even painted life-sized SUVswith it . If you want something more flexible and with cheaper operating costs, then scroll down and look at our number #2: Scribbler V3.
See the full specs of 3Doodler Create on its dedicated page in our 3D Pens DB.
3Dsimo mini – best for flexibility
3Dsimo mini is one of a kind DIY multi-tool. You can use it for:
3D doodling
plastics cutting and 3D drawings or prints retouching
burning wood and leather for decoration
soldering
foam cutting
But despite giving it one extra point for "superpowers", here we'll only care about its 3D drawing abilities. At this, the only thing that can be said is good – nothing special, nothing broke. It works, and it works well.
Now, the cool things about this tool when it comes to 3D pen functionality is its higher temperature range and the support for extra filament types that it brings. Besides the regular ABS, PLA and FLEXY filaments, it also supports HIPS, PETG and special metal-like and wood-like filaments: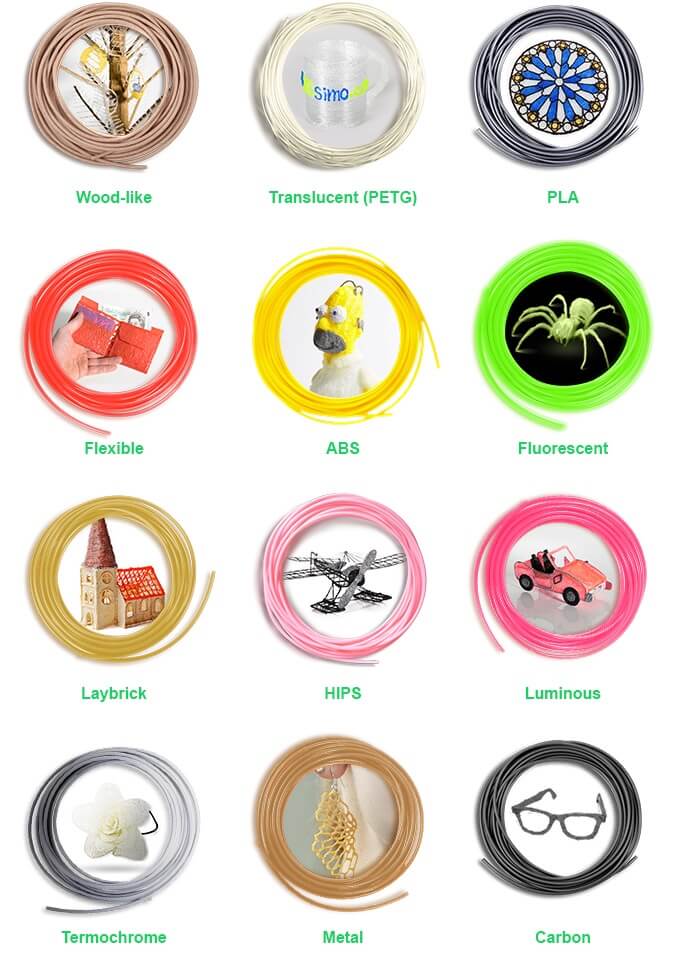 The only tool that comes close to its flexibility when it comes to materials is the 3Doodler Pro, but we didn't include it in this review because it's out of stock and seems to be from a different league (oh, and it's 2x as expensive btw) – maybe comparing these two would make for a fine "advanced 3D pens review" in the future…
The device has a text only display, and for more advanced control of parameters it is configured via a mobile app. Cool …but why?!
We have some concerns about its reliability though. The device doesn't seem very easy to unclog if gets clogged (though it doesn't appear to do often). Also, this is definitely not a very kid-friendly device, since the tips get hot, and even as an adult you have a pretty good change of burning yourself when changing then if you don't pay attention. But if you have a smart kid and time to supervise him, the tool's flexibility makes it great for all sorts of creative DIY projects.
Best for
DIY and repair geeks
people when you need to print with exotic materials
See the full specs of 3Dsimo mini on its dedicated page in our 3D Pens DB.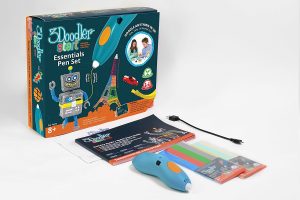 If you're looking for a kid friendly 3D pen, there are sooooo many things to consider:
safety – can it cause burns when used improperly or without adult supervision?
mobility – because we all know that kids hate wires and love to run around!
ease of use – can a kid just "jump into it" and start using it immediately, instead of having to bore them with complicated instructions?
creative potential – can kids actually create cool stuff that looks as good as it's advertised and doesn't fall apart easily? because otherwise they'd get frustrated by it and give up…
ruggedness / reliability – because we all know kids are great at breaking stuff
And you soon get to realize that these turn into conflicting requirements for a product…
3Doodle Start is one of the few products that gets all of these right:
it's safe – even the nozzle only gets warm (not hot enough to burn) – this is possible because it uses a special kind of proprietary "bioplastic" that melts at lower temperature (and it's also non-toxic and eco-friendly )
it's truly mobile – on one battery charge (internal, fixed) it can go for up to 1 h (probably half), and it charges via a Micro USB cable, so there's good chance you can extend its actual mobility via a USB PowerBank or plug it into an USB car charger for the kids to have in-car fun during road-trips… this tops all other molten plastic 3D pens
it's extremely easy to use (just ONE button) and it actually has great creative potential – you can draw things that looks pretty darn close to those made by pro 3D pen artists with it, the only limit being the kid's talent! As opposed to photopolymer ink pens (you can read more about below) make it hard to draw objects that are both large and interesting looking and detailed. There are creative limitations due to the nature of the low-temperature eco-plastic, for example you can't easily draw straight into the air like you can do with ABS (but you also don't have the nasty fumes and hot top of ABS drawing…)
To top these off, this 3D pen is known to be pretty rugged (rugged than most adult oriented pens!) and not that hard to unclog. To be honest, there are other pens with similar low temperature polymers, but after sorting them based on price/quality and on the quality of other review, they never even got to our short list for this review.
Best for
kids
people who want to play with a 3D pen that simply "just works"
See the full specs of 3Doodler Start on its dedicated page in our 3D Pens DB.
The 3rd generation of Scribbler 3D Pen is a very popular one. So popular that there are also knock-off clones of it, so make sure you buy from their official amazon shop. (Also, it appears that when Scribbler launches a new generation pen, all their previous generation models get some kind of a "free to clone" signal, so there are tons of replicas of their older model.)
Now, ignoring the not so glamorous brand, the Scribbler V3 is actually a solid looking pen with a nice ergonomic design. It features 6 speeds and configurable temperature (inside the common PLA/ABS range), with settings clearly visible on its OLED display. This offers quite a lot of control to artists willing to experience with multiple settings.
To complement its good ergonomics, the pen also warms up very fast, so it's great for the impatient.
And when it comes to reliability, some would say that it may be the best. If it jams/clogs it's easy to fix, but it doesn't really do this very often. Iteration from previous generations has probably thought the manufacturer a few tips. The filament can always fully back off, so you can change colors/materials fast. And people have used it for large models without reliability issues.
It supports the popular 1.75 mm filament (ABS, PLA, FLEXY/TPU) and it's know to work with non-brand generic filaments too (including 3D printer filament). The manufacturer offers a wide range of colors, including some "special" variations like glow-in-the-dark. And there are also metal-like and wood-like filaments that can work with this pen. But again, if you want to make extra sure your pen lasts as long as possible, stick to the Scribbler made filaments.
See the full specs of Scribbler 3D Pen V3 on its dedicated page in our 3D Pens DB.
Now, despite its compact looks and good ergonomics, there's truly nothing special about the Soyan Professional 3D Pen. It seems to belong to the same clone-family as MYNT3D (maybe it's even exactly the same product? who knows…)
But it the world of 3D pens, plagued by manufacturing defects and products that clog a lot of break after little use, "nothing special" is a good thing! Really, what we have here is an appropriately priced 3D pen that looks great, is comfortable to use and works well.
The clone factories in China appear to be doing some R&D of their out, because with this one they've turned up a pretty darn good product.
It has finely adjustable controls:
continuous slider for fine adjustment of speed
buttons for exact temperature setting
display that show the current temperature in real time
Coupled with the fact that there aren't many reported reliability issues so far (it's a new product), and it had good customer service, this feels pretty darn close to some of the more expensive products.
For filaments, it supports the regular 1.75 mm size and a 130-240℃ (again, regular). I has been known to work with PLA, wood-like-PLA, ABS, TPU and PETG and it clearly states that you can use "any thermoplastic filaments as long as it is 1.75 mm and melts between 130-240℃".
See the full specs of Soyan Professional 3D Pen on its dedicated page in our 3D Pens DB.
So far we've only looked at 3D pens that use the molten plastic technology, and for good reasons: for now, all other alternative technologies are at their early beginning. Only molten plastic 3D pens ca be used to create long-lasting and reliable models and to create actually useful household objects.
But the future is coming…
And one part of this future is photopolymers: substances that harden when exposed to light of a certain wave-length (color), in most cases UV-light. They can, in theory, replace the hot burny molten plastic with ugly fumes that current pens use.
So far we've seen two UV-hardened photopolymer pens on the market, the CreoPop 3D Pen and the Polyes Q1 Pen. Both use cool (as in "not hot") ink that solidifies when exposed to the UV-lamp emitted by a LED in the pen's head.
Let's take a better look at the CreoPop 3D Pen since this seems to be the more advanced device:
The obvious thing that you'll see about this device is that it's wireless. Since there's no need to push out a lot of energy as heat for melting the plastic, these pens have a much easier time with being wireless (the only truly wireless molten plastic 3D pen is the 3Doodler Start, but it does it by using a special low-melting-temperature plastic).
Also, since the hardening happens a bit more abruptly for photopolymers than form molten plastics, with these "cool ink" pens you can even draw straight up in the air and at right angles with no support. Like you see with the lateral branch in the second part of this: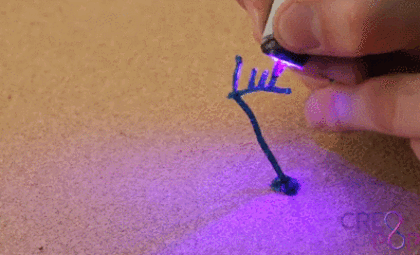 Other advantages is that you can spread the in without hardening it (LED off), and then shine light on it and have it harden.
Sounds awesome… But when you look at the models made, you see that they are pretty small (I can imagine the large amount if expensive ink needed for a large model), and they look kind of gooey, not thin sharp lines and possibility for detail. Also, when working you'll end with lots of drops of messy gooey stuff. Not my ideal creative experience, but it's definitely a trade-off. To be convinced by this shiny new things, we'd really have to see, or try to make, some models that are truly impossible with other pen types.
Also, the inks themselves come in great variety, including: magnetic, conductive, skin safe and aromatic! You definitely can't get that with plastics.
See the full specs of CreoPop 3D Pen on its dedicated page in our 3D Pens DB.